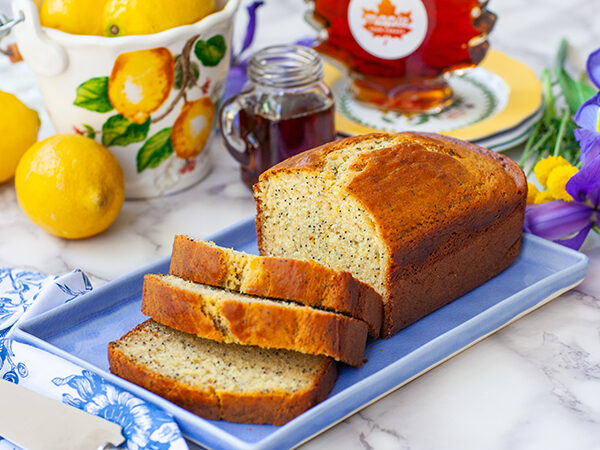 Ingredients
1 cup

sour cream

1 cup

Greek yogurt, not low fat

1 cup

unsalted butter, softened at room temp

4

large eggs, at room temp

2 tsp

vanilla extract

1 tsp

lemon extract, optional

1 1/4 cup

pure maple syrup (preferably amber syrup for its rich flavor)

zest

from 2 to 3 large lemons

3 Tbsp

poppy seeds

3 cups

all-purpose flour

2 tsp

baking soda

2 tsp

baking powder

1/4 tsp

salt
Method
Preheat the oven to 350F/177C. Spray the insides of two, 9-inch loaf pans with a non-stick baking spray or use the flour and butter method. Line the inside with parchment.
Making the Bread Batter:
Place the softened, unsalted butter into a large mixing bowl. You can use a stand mixer or hand mixer for this recipe. Beat the butter on medium speed for a few minutes, until it's extra fluffy and light.
Next, add in the room temperature eggs and beat again for a few minutes, until the eggs and butter are well combined. The batter may look a little lumpy at this point, depending on the temperature of your eggs and butter.
Add in the Greek yogurt, sour cream, vanilla extract and lemon extract (optional) next. Mix again for about a minute, until the batter is smooth and creamy.
Measure out your pure maple syrup from Canada and pour it into the mixing bowl. Add the zest from 2 to 3 lemons and sprinkle in the poppy seeds. Mix on medium speed for 1 minute, until the maple syrup is well incorporated.
In a separate bowl, combine the dry ingredients: flour, baking soda, baking powder, and salt. Sift the dry ingredients into the batter, then mix on low-medium speed, just until the batter is smooth.
Baking Instructions:
Divide the prepared batter evenly between the two bread pans. You can use a kitchen scale for accuracy.
Bake the bread at 350F for 45 to 48 minutes, or until a toothpick inserted into the center comes out clean. Keep the pan spaced at least 6-inches apart in the oven.
Once the bread is done baking, remove it from the oven and allow the loaves to cool in the pans for about 7 to 10 minutes. Remove them from the pans and onto a wire rack to cool completely.