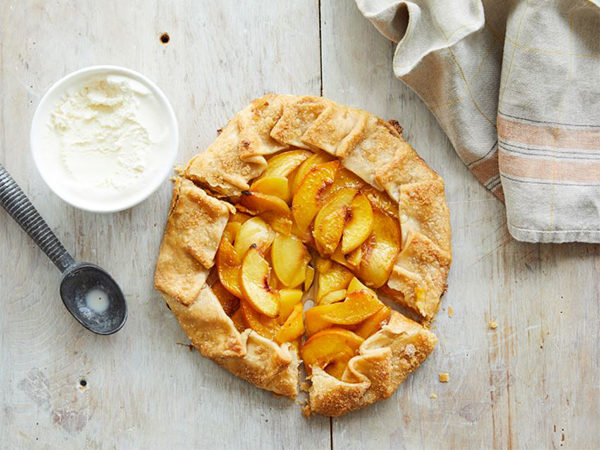 Maple Ginger Nectarine Galette
---
Ingredients
1

refrigerated pie crust

1 lb

(about 3) nectarines or peaches, pitted and sliced, about 3 cups

4 Tbsp

pure maple syrup (preferably amber syrup for its rich flavor), divided

1/4 tsp

ground ginger

1 tsp

sugar in the raw or brown sugar
Vanilla ice cream, serving suggestion
Fresh mint leaves, garnish
Method
Preheat oven to 400° F.
In bowl toss sliced nectarines, 2 Tbsp pure maple syrup and ground ginger until evenly coated.
Line a baking sheet with shallow sides with parchment paper.
Roll out pie crust on prepared baking sheet.
Arrange nectarines mixture on pie crust leaving a 2-inch border around edges. Bring pie crust edges up and partially over fruit and crimp.
Brush dough with 1 Tbsp maple syrup and sprinkle with sugar.
Bake 20-25 minutes or until fruit is cooked through and pie crust is golden.
After baking, brush fruit with remaining 1 Tbsp pure maple syrup.
Serve with scoops of vanilla ice cream and garnish with fresh mint leaves, if desired.