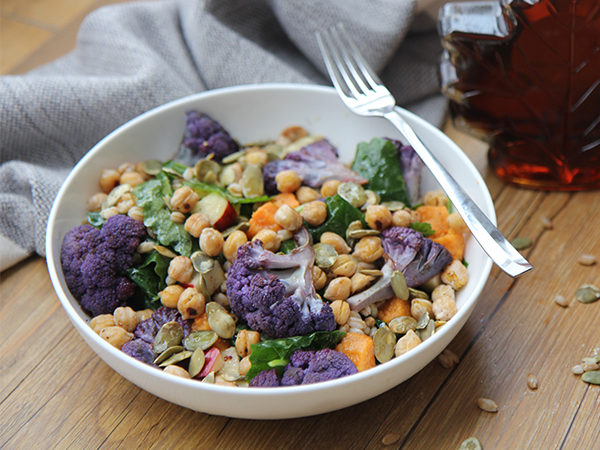 Maple Harvest Bowl with Farro and Roasted Chickpeas
---
Ingredients
Harvest Bowl
1

head cauliflower, cut into bite-sized florets (try purple cauliflower for an extra pop of color)

1

small sweet potato, peeled and cut into ½" cubes (about 1 ½ cups)

2 Tbsp

pure maple syrup from Canada

1 Tbsp

olive oil

1 1/2 tsp

ground cumin

1 tsp

garlic powder

1 tsp

paprika

1

15 ounce can chickpeas, rinsed and drained

1 Tbsp

lemon juice

1/4 tsp

salt

1/4 tsp

black pepper

1 cup

farro

1 3/4 cups

water

2 cups

baby kale

1

red apple, chopped

1 1/4

pumpkin seeds (pepitas)
Maple Apple Dressing
3 Tbsp

pure maple syrup from Canada

2 Tbsp

extra virgin olive oil

1 Tbsp

apple cider vinegar

1 tsp

Dijon mustard

1/8 tsp

salt

1/8 tsp

pepper
Method
Directions
Preheat your oven to 400° F (204° C). Adjust the racks inside so one is in the middle and the other is in the lower position (with room to fit a rimmed baking sheet).
Line two rimmed baking sheets with parchment paper.
Add the cauliflower florets to one half of one of the prepared baking sheets and spread out evenly so they don't overlap. Add the sweet potato cubes to the other side of the baking sheet. Pat dry with a paper towel or clean dish towel to remove any moisture.
Drizzle the cauliflower and sweet potato with the pure maple syrup and olive oil. Sprinkle with the cumin, garlic powder and paprika.
Add the chickpeas to the other prepared baking sheet, spreading them out so they don't overlap. Pat dry with a clean towel.
Drizzle the chickpeas with the lemon juice and sprinkle with salt and pepper.
Put the baking sheets in the preheated oven with the vegetable tray on the center rack and the chickpeas on the lower rack. Bake for about 25 minutes or until the veggies develop a golden brown tint and the chickpeas start to get crunchy.
Meanwhile, cook the farro. Cook according to package directions, or add farro and water to a medium saucepan, bring to a boil, cover, and reduce to a simmer for about 30 minutes or until the farro is soft and the water has been absorbed.
Make the dressing. Add all of the dressing ingredients to a large mixing bowl and whisk to combine. Add the roasted vegetables, cooked farro, baby kale, apple and pumpkin seeds and toss to coat. Serve into 4 bowls and enjoy!