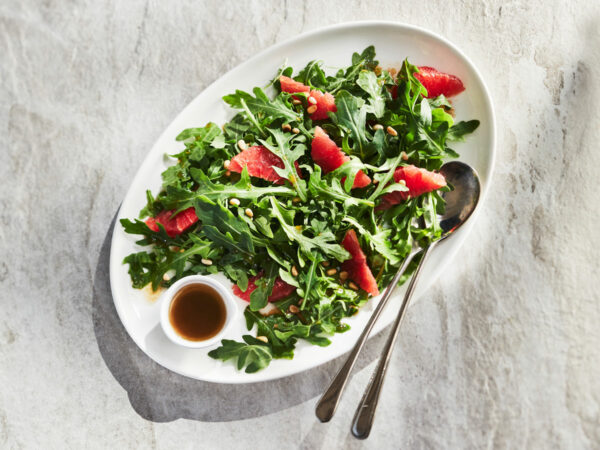 Pink Grapefruit Salad with Maple Syrup and Vanilla Dressing
---
Ingredients
4 cups

baby arugula

1

grapefruit, peeled and segmented, juices reserved

1/4 cup

pure maple syrup from Canada

2 tsp

of pure vanilla extract

1/2 cup

olive oil

2 Tbsp

toasted pine nuts (optional)
Method
Amongst two large salad bowls, divide arugula and grapefruit segments. In a small bowl, combine pure maple syrup, vanilla extract, grapefruit juice and olive oil; whisk until emulsified. Pour 1-2 tablespoons over each salad; garnish with pine nuts, if desired.
Advice from Maple experts
Spring is almost here! Get in the mood for fresh foods with this pink grapefruit salad recipe! Besides adding grapefruit to this salad, this recipe calls for a very original salad dressing that combines vanilla, pure maple syrup and grapefruit juice with olive oil. The colorful food display is rich in vitamins and minerals and will help satisfy your cravings for sweet foods. To add more crunch, garnish the salad with a few pine nuts.