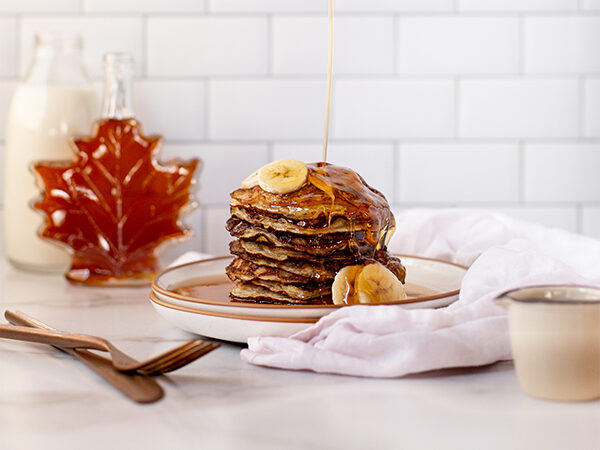 Oatmeal Peanut Butter Banana Pancakes with Maple Syrup
---
Ingredients
1/3 cup

whole wheat flour

1/3 cup

all-purpose flour

1 tsp

baking soda

1/2 tsp

salt

2 cups

buttermilk

2/3 cup

old fashioned rolled oats (not instant)

2

overripe bananas, mashed with a fork to a fine pulp

2

egg whites, whipped to stiff peaks

2 tsp

canola oil or non-stick pan spray
Crunchy or creamy peanut butter, for serving
Pure maple syrup (preferably amber syrup for its rich flavor), for serving
Method
In a mixing bowl, combine both flours, baking soda and salt. Set aside.
In a non-reactive mixing bowl, combine buttermilk, oats and bananas. Fold in dry ingredients. Fold in egg whites and mix until just combined.
Heat 1 teaspoon of oil in a 12-inch non-stick skillet over medium-high heat. Drop 1/4 cup of batter onto pan and cook, turning once until lightly browned. Hold pancakes warm on a platter until you've got them all cooked.
Spread a teaspoon or so of peanut butter on each pancake and then the Pièce de résistance of course…a generous drizzle of pure maple syrup from Canada.
Advice from Maple experts
Tip: Keep banana pancake kit meals in your freezer – mix together all dry ingredients, store by the batch-full in freezer safe bags.