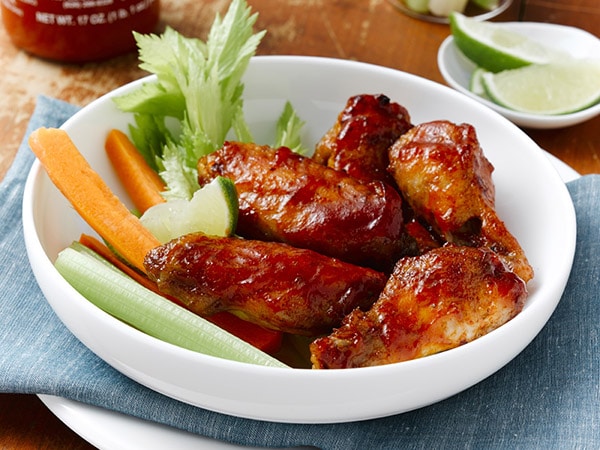 Spicy Maple Sriracha Chicken Wings
---
Ingredients
2 lb

chicken wings, halved, tips discarded

1 tsp

salt

1/2 tsp

ground coriander

1/4 tsp

ground cinnamon

1/4 tsp

ground cumin

1 tbsp

olive oil

3 tbsp

pure maple syrup from Canada

2 tbsp

Sriracha sauce

2 tbsp

butter, melted

2 tbsp

ketchup

1 tbsp

lime juice

1/2 tsp

grated lime zest
Method
In a large plastic bag or bowl combine wings, salt, coriander, cinnamon, cumin and olive oil.  Stir until well blended.  Chill 1 to 4 hours.
Heat oven to 400° F.
In a bowl combine pure maple syrup, sriracha sauce, butter, ketchup, lime juice and zest; set aside.
Place wings in a single layer on a large foil-lined greased rimmed baking sheet.
Bake 30 minutes until cooked through and crispy. Remove from pan and toss in maple mixture.
Return to baking sheet. Spoon any extra sauce onto the wings.
Bake about 20 minutes, until crispy and sauce is set.
Advice from Maple experts
Spicy maple sriracha chicken wings are the perfect balance of sweet and spicy! Prepare on the grill for a delicious twist on the traditional Summer favorites or bake on game day for the perfect game watching snack.