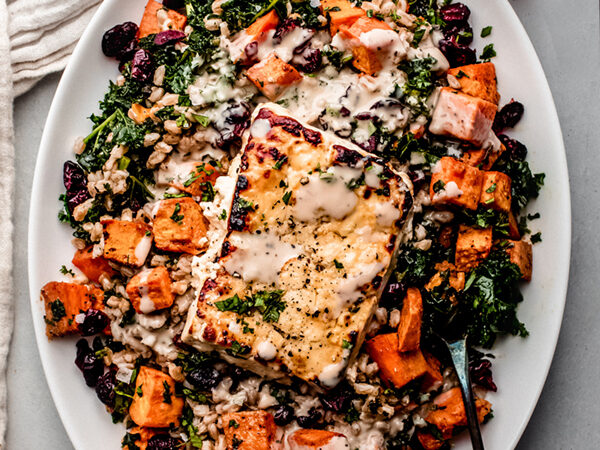 Maple Roasted Feta with Sweet Potatoes, Farro and Kale
---
Ingredients
Farro
1 tbsp

olive oil

1 clove

garlic, minced

1 cup

farro, rinsed

3 cups

chicken broth
Roasted Sweet Potatoes
3

medium sweet potatoes, cut into 1" cubes

2 tbsp

olive oil

1/2 tsp

ground cumin

1/2 tsp

paprika

1/2 tsp

garlic powder

1/2 tsp

onion powder

1 pinch

salt (to taste)

1 pinch

pepper (to taste)
Roasted Feta
1 7-ounce

slab feta (blotted dry)

1 tbsp

olive oil

1 tbsp

pure maple syrup from Canada
Tahini Dressing
1/4 cup

tahini

1/4 cup

lemon juice

2 cloves

garlic (grated or minced)

1 tbsp

pure maple syrup from Canada
salt and pepper to taste

1-2 tbsp

water (if needed)
To Finish
3 cups

kale, finely chopped

1 tbsp

olive oil

1/4 cup

dried cranberries

1/4 cup

parsley, finely chopped
Method
Preheat the oven to 425 degrees.
In a small pot, heat olive oil over medium-low heat. Add the garlic and cook for about 30 seconds, just until fragrant. Add the rinsed farro and stir, allowing it to toast for about 1 minute. Pour in broth and bring to a boil. Cook for 30-35 minutes, uncovered, until most of the liquid is absorbed. Remove from heat, cover with a lid and set aside.
Combine sweet potatoes, olive oil and spices in a large bowl. Toss to combine.
Spread potatoes evenly on a baking sheet, and season with salt and pepper. Bake for 35 minutes, until crispy and golden.
Meanwhile, line a small ovenproof dish or saute pan with foil and place the feta on top. Drizzle with olive oil. Once the sweet potatoes have been in the oven for 20 minutes, add the feta to the oven and cook for the last 15 minutes of cooking time.
Remove the sweet potatoes and feta from the oven and preheat the broiler to high. Drizzle the feta with the maple syrup. Broil until the top of the cheese browns and just starts to bubble.
Add the kale to the bowl that the potatoes were in along with 1 TBSP olive oil and a sprinkle of salt. Then use your hands to gently massage for 1-2 minutes, until tender. Set aside.
Make the dressing by whisking together tahini, lemon juice, garlic, maple syrup. Add extra water if needed to thin. Taste and season with salt and pepper.
Add the sweet potatoes and farro to the bowl with the kale and toss to combine. Top with cranberries, parsley, and dressing then mix to combine.
Serve on a platter, topped with roasted feta.