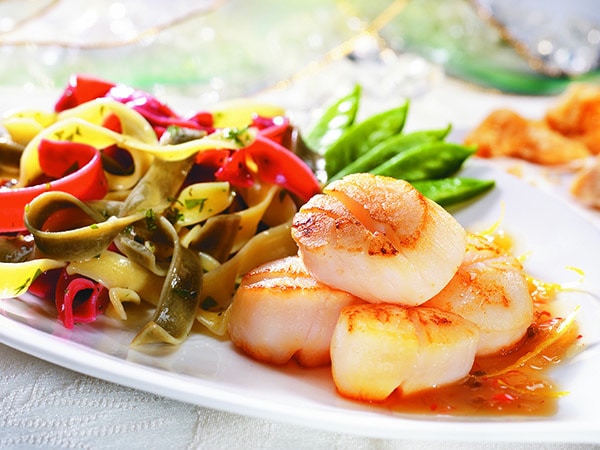 Scallops with Lemon and Maple Dressing
---
Ingredients
1 Tbsp

butter

1

shallot, minced

2 Tbsp

lemon juice

1/4 cup

dry white wine

1 tsp

lemon zest, minced

1/4 cup

pure maple syrup from Canada

1/3 cup

35% cream

1/2 Tbsp

pink peppercorns, crushed
Sea salt, to taste

2 Tbsp

oil

1 1/3 lb

large scallops
Method
Melt butter and sauté shallot in a pan. Deglaze with lemon juice and white wine and let simmer until reduced by half. Add the lemon zest, pure maple syrup and bring to a boil.
Add the cream and simmer for 2 to 3 minutes, stirring throughout. Add the peppercorns and season with salt, to taste. Set aside and keep warm.
Heat oil in a frying pan over high heat. Gently cook the scallops either one minute on each side, or on one side only and until the top turns slightly opaque. Serve immediately with the sauce and a side of seasonal vegetables.
Advice from Maple experts
In welcoming the spring weather, a light and healthy seafood meal is exactly what one dreams about. This is a delightful dish, with the tenderness of the scallops enhanced by a sauce flavored with white wine and a hint of maple. And it's very easy to make.

Sweet tip: The maple syrup harvest season and tapping takes place in March. Happy sugaring!