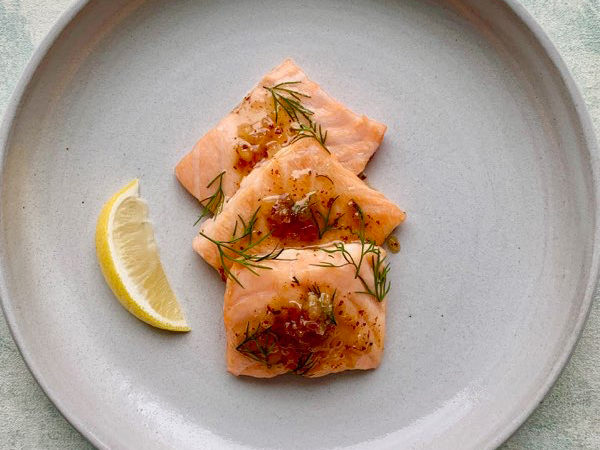 Roasted Salmon with Real Maple Syrup, Dill and Mustard Sauce
---
Ingredients
1 lb

salmon filet, skin off, pinboned

2 tsp + 1 pinch

kosher salt

1 Tbsp

extra virgin olive oil

1

shallot, minced

1/4 cup

cider vinegar

2 Tbsp

pure maple syrup from Canada

1 Tbsp

grain Dijon mustard

2 Tbsp

cold unsalted butter, cut into 1/2 in cubes

1/4 cup

fresh dill leaves and stems, chopped

1/2

lemon
Method
Cut the salmon filet against the grain into 12 slices, about 1/2 inch thick then lay them on a baking sheet pan and evenly season with two teaspoons of kosher salt.
Brush the salmon with the olive oil, and arrange them on the baking sheet pan, in a single layer, spaced so they are not touching each other.
Preheat the broiler on high setting with a rack set in the middle level of the oven. Set salmon aside as you make the sauce.
Combine the shallot, vinegar, and pure maple syrup in a small saucepan and place over medium heat. Once it comes to a boil, reduce it by half, which will take about five minutes. Keep a close eye on it as it is reducing because you don't want it to boil dry, burning the pure maple syrup. Turn off the heat, whisk in the cold butter, slowly, to emulsify into the sauce base, and then add half of the chopped dill. Leave near, but not on, the heat.
Place the salmon on the middle rack of the hot oven to broil. Let broil for five minutes until the salmon is just cooked. The middle will keep it a bit away from the brutal heat, but it will still cook quickly and perfectly.
Using a spatula arrange three slices of the salmon onto a dinner plate. Spoon some sauce over the top like you were dressing a salad. Garnish with more of the dill and a squeeze of fresh lemon juice. Repeat for three more plates.