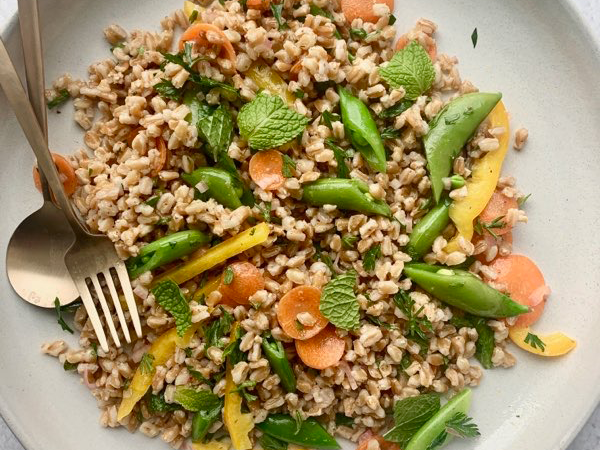 Farro Salad with Real Maple Syrup Vinaigrette, Carrots, Snap Peas, Sweet Peppers, and Mint
---
Ingredients
Maple Vinaigrette (makes 1 1/2 cups)
1

shallot, minced

1 Tbsp

Dijon mustard

1 cup

extra virgin olive oil

1/3 cup

cider vinegar

2 Tbsp

pure maple syrup from Canada

1 tsp

kosher salt
Farro Salad
1 1/2 cups

farro

1 1/2 tsp

kosher salt

1 tsp

extra virgin olive oil

1/2 cup

real maple vinaigrette (recipe above)

1 cup

thinly sliced carrot rounds

1 cup

finely chopped carrot tops

1 cup

chopped fresh sugar snap peas

1 cup

chopped yellow bell pepper

1/2 cup

torn fresh mint leaves
Freshly ground black pepper, to taste
Method
Maple Vinaigrette
Place the shallot and mustard in a mason jar, seal with lid and shake.
Slowly whisk in the olive oil and then thin with the vinegar and pure maple syrup. Season with the salt and place in a clean mason jar. The vinaigrette will keep in the fridge for a week.
Farro Salad
Rinse the farro under cold running water in a fine-meshed sieve.
Place the farro in a pot and cover with 4 1/2 cups of water. Bring to a boil and then add 1/2 teaspoon of the salt.
Simmer farro and cook for 30 minutes. Then drain, toss with 1 tablespoon of the olive oil in a bowl and set aside.
In a separate, large bowl, combine the carrots, carrot tops, snap peas, bell peppers, and mint. Add 1/4 cup of the vinaigrette and a teaspoon of kosher salt. Toss well.
Add the farro and the remaining 1/4 cup of vinaigrette. Toss again and serve.