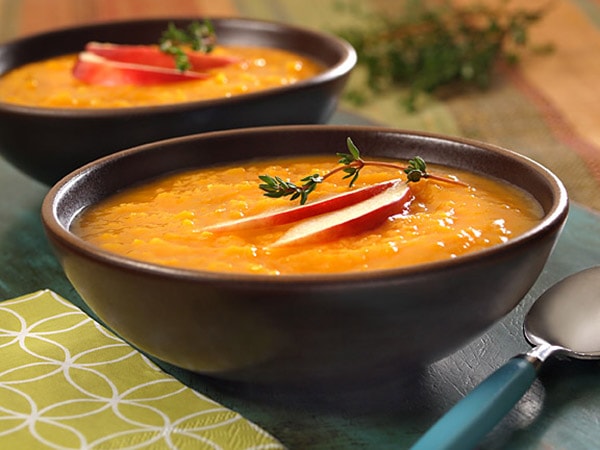 Maple Butternut Squash and Apple Soup
---
Ingredients
2

butternut squash (or 1 medium squash)

1-2 tsp

olive oil

2 Tbsp

pure maple syrup from Canada
Coarse-grained salt and cracked black pepper, to taste

4-6

cloves of garlic, peeled, cut in half lengthwise, sprouts removed
Fresh thyme sprigs

2

Northern Spy, Rome Beauty or other baking apple

4 cups

homemade chicken stock or canned chicken broth
Method
Preheat oven to 375°F. Cut the squash in half lengthwise. Remove the seeds.
Peel, core and cut the apples into quarters. Brush cut surfaces of squash and apples with pure maple syrup and then the oil.
Season apples with coarse-grained salt and cracked black pepper. Set apples aside.
Place squash on a cookie sheet, tuck the garlic and one sprig of thyme in the cavity of each half.
Place cut side down on a cookie sheet and bake 15 minutes.
Place apples on cookie sheet with squash and continue baking until squash and apples are completely soft and tender about 15-20 minutes more.
When the squash is just cool enough to handle, scrape the meat from the skin, place in a medium sauce-pot along with the cooked garlic, discard the thyme sprig.
Using a potato masher, mash apples and squash. If a smoother texture is desired, pass through a ricer or food mill.
Pour only enough chicken broth to achieve desired soup consistency. For a thinner soup use more stock, for a thicker heartier version, use less stock.
Turn heat to medium high and heat, stirring constantly until soup comes to a boil. Turn off heat. Taste and adjust seasonings with salt and pepper and pure maple syrup.
Serve immediately.