Maple Culinary Ambassador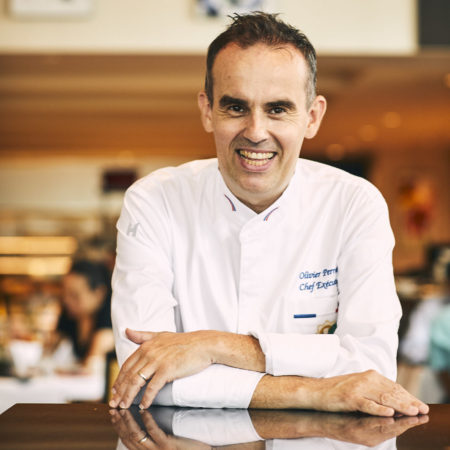 Portrait
Renoir's Chef at the Sofitel Montréal le Carré Doré
---
Growing up in France's Burgundy region, Olivier Perret worked at the farmers' markets, also cultivating an affinity for their fresh fruits and vegetables. As he grew, so did his passion for what would become his profession.
He is the Executive Chef at Renoir of the Sofitel Hotel in Montréal's Golden Mile.
In this modern, luminous space, Olivier Perret creates dishes of taste and colour that rival the brilliance of the French impressionist master from whom the restaurant takes its name.
Coming to Montréal from Washington D.C., Chef Perret has raised Renoir's profile significantly, earning it two "toques" and an overall grade of 14 out of 20 in the first Montréal edition of the prestigious French restaurant guide Gault et Millau in 2016.
His enthusiasm for local products comes to the fore in many ways but his Gaspor Pork in Two Courses with maple-caramelized salsify, foie gras terrine, and maple-apple coulis simply cannot be overlooked. Every single uniquely-delicious bite is testament to the work of a great chef.
Chefs
---
Maple, in all its forms, has an open invitation to the greatest tables, as it never fails to bring with it a hint of audacity and a host of pleasures. And many have adopted it as their own: Chefs, bakers, brewers, winemakers, ice cream makers, and caterers use maple with a passion… because it's an exceptional product that invites them to reinvent themselves. Incredible maple!