Maple Culinary Ambassador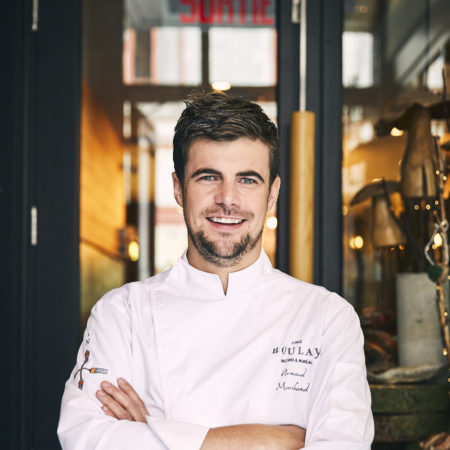 Portrait
Owner/Chef, Chez Boulay – Bistro boreal, Quebec, since December 2011.
---
Though he hails from France, it's locally-sourced Québec products that enliven and enrich the cuisine of Arnaud Marchand. With 10 years experience at fine French restaurants under his belt, he came to Québec for work at L'Initiale and Château Bonne Entente.
He gained prominence by qualifying as a finalist on the TV show Les Chefs in 2010, catching the eye of one of the judges. That happened to be Chef Jean-Luc Boulay who, in 2012, opened the doors to his Bistro boreal in the heart of Old Québec City.
Arnaud designed a menu attuned to the seasons and composed exclusively of products native to Canadian soil.
This highly talented chef has garnered numerous awards and accolades. In 2015, he won the young restaurateur category of the Association des restaurateurs du Québec's Chapeau restaurateurs! awards. The Société des Chefs, Cuisiniers et Pâtissiers du Québec named him Chef of the Year for the Québec region in 2015 and Chef of the Year for the entire province in 2016. Also in 2016, the Jeune chambre de commerce de Québec presented him with their Prix Inspire, awarded to the 20 best young entrepreneurs in the capital city
"What does maple mean to me? The end of winter and finer recipes. My first memory of maple is the taste of taffy taken off the snow at a sugar shack…"
Maple … a Slice of Life!
"I love Québec City, its people, and its gourmet riches. I feel privileged to be able to live here. Maple? I love its great versatility. It can be used as easily in savoury dishes as in desserts. The flavour is unique and its ability to blend with spice is surprising. The combination of maple syrup and green alder pepper is simply magical!"
Chefs
---
Maple, in all its forms, has an open invitation to the greatest tables, as it never fails to bring with it a hint of audacity and a host of pleasures. And many have adopted it as their own: Chefs, bakers, brewers, winemakers, ice cream makers, and caterers use maple with a passion… because it's an exceptional product that invites them to reinvent themselves. Incredible maple!