Antoine Duchesne
Professional Cyclist
Maple Sport Ambassador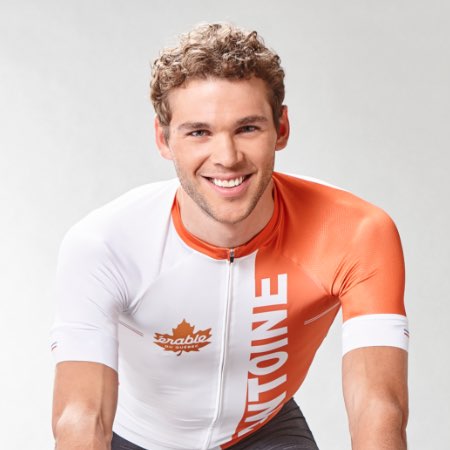 Portrait
Antoine Duchesne is a professional cyclist on the Groupama – FDJ team. In 2016, he became the second Québecer ever to finish the Tour de France.
---
Antoine Duchesne: a Maple Fanatic!
---
It was at the age of 14 that Antoine Duchesne first followed the lead of his sister and got on a competitive bicycle. Up until then he'd been an avid spectator of bike racing, fascinated by the intensity of effort it takes to reach beyond oneself to excel in the sport. He was hooked! And what an amazing ride it's been for him in the world of cycling. Just four years later, the Chicoutimi native won the junior Canadian time trial championship and went on to the junior World's. A pro cyclist since 2013, he was the second Québecer to finish the Tour de France in 2016 and took the best climber jersey that same year in the celebrated Paris-Nice race. In 2018, he joined WorldTour team Groupama – FDJ, moving up to the most challenging circuit of the International Cycling Union. Maple from Québec is proud to call this fine athlete an Ambassador because he's not only a marvellous cyclist but he loves to cook as well!
Antoine Duchesne and Maple, Partners for Life!
Maple is the sweetener for me. In the morning with my cereal or oatmeal, or in my recovery drinks after training, I'm always adding a healthy dose of maple syrup. Not only that, but most of my energy bars are made of maple syrup. If they're not, I add it.
With me, it's pretty simple, actually. Maple is a kitchen ingredient that I can't live without. As far back as I can remember, it was always in our desserts. I guess you could say I'm especially addicted to maple syrup and maple butter. If I want something quick and perfectly satisfying, I just take a good glug of maple syrup… right from the bottle! I hold it in my mouth as long as I can to make that sweet taste last … I'm so in love with it and I make sure to always have some, even at my place in the south of France. I can't even count how many times I've stashed some in my suitcase!
Maple, my favourite ingredient
I can't really say I've got a favourite recipe with maple syrup. That's because I put it in just about everything I make! But I do like to make a frittata with sautéed shiitake mushrooms that I deglaze in maple syrup and add to the omelette. I'll also crust my grilled cheese sandwiches with a caramelized layer of maple syrup. That's one that I try not to overdo!
Athletes
---
Québec's elite athletes claim maple as one of their secret weapons that help them perform better, wherever they go in the world. Maple from Québec is proud to support two professional cyclists who are bringing international acclaim home to Québec. These athletes fuel up with this natural energy source before, during, and after training sessions. Find out all about them!