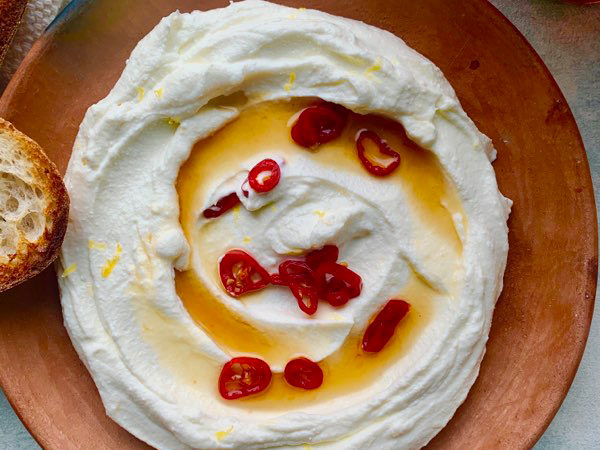 Whipped Ricotta with Maple Syrup, Calabrian Chiles, and Grilled Sourdough
---
Ingredients
2 cups

fresh ricotta

1/4 tsp

lemon zest

1 tsp

freshly squeezed lemon juice

1 tsp

kosher salt

2 Tbsp

extra virgin olive oil

2 Tbsp

chopped Calabrian chilis in oil

2 Tbsp

pure maple syrup from Canada

4 large slices

grilled or toasted sourdough bread
Method
Place the ricotta, lemon zest, lemon juice, and salt in a food processor and puree.
With the motor running, slowly drizzle in one tablespoon of the olive oil to emulsify into the ricotta.
Turn off the food processor and scoop the whipped ricotta into a serving bowl.
Smooth down the ricotta to look like a lightly textured bowl of hummus.
Scatter the chopped chilis over the ricotta and then drizzle the pure maple syrup over the cheese. Serve with grilled sourdough and a spoon.