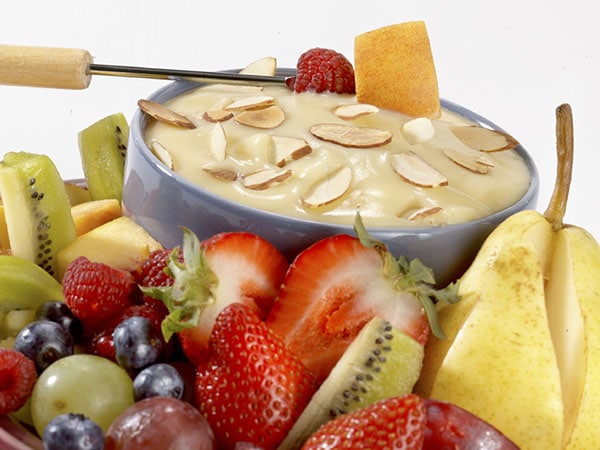 Maple Fondue with Cardamom and Orange Zest
---
Ingredients
1 cup

pure maple syrup from Canada

1/2 cup

light cream

2 Tbsp

cornstarch, diluted in 2 tablespoons cold water
Zest from 1 orange

1/2 tsp

ground cardamom
Method
In a small, heavy saucepan, combine pure maple syrup and cream. Stir over low heat.
Add diluted cornstarch and stir until thickened.
Add orange zest and cardamom.
Pour mixture into fondue pot and place on fondue stand over low heat. Serve with your favorite fruit.
Advice from Maple experts
In the mood for a fun and healthful dessert that's easily shared? Surprise family and friends with this novel fondue recipe made with pure maple syrup. The light yet aromatic sauce ties the rich, nutty flavor of the maple syrup with a brighter citrus, exotic taste from the cardamom and orange zest. It pairs well with all your favorite fruits: strawberries, blueberries, blackberries, grapes, apples, peaches and apricots, just to name a few. Use leftover fruit and sauce to mix a delightful fruit salad.